hi,guys if your website display this message it mean that some one tried to hack your website and redirect it for some other webpage.This message is display mainly in when you try to access your website in  Google chrome browser and google chrome browser have feature that display malware alert.This message of malware attack is display on your website because you have submit your website URL in Google Webmaster tool.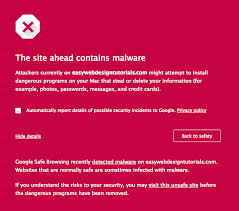 When Google find out any suspicious code on your website during indexing it display following message "website ahead contains malware" .Now question arises in front of us how to solve this issue.Actually I am going to tell you how you can solve this issue.
1) First of all open your google Chrome and Go to advance settings.
2) Uncheck an option of "Enable Publishing and Malware Protection".
3) Now try to access your website you will see the result that this message is removed now.
But till your setting is configured in your browser this message is not displaying but not on any other PC or Laptop Google Chrome.So, how you can solve this issue permanently?. Now if  you have backup of your website then  just drop your database from server and files too.Scan your all backup files for virus and spam and if is got error free then upload it on server and configure it.
Last step is to move Google Webmaster tool and click on your domain name and  click on submit a review option and fill a text box with details how you solved this issue.Google will display a time duration on that page if google will review your website and feel error free then this malware message will be removed from your website within given time limit of Google.