Joomla is open source Content Management System for publishing web content, written in PHP and uses object-oriented programming (OOP) concept with MySQL database. It enables you to build responsive websites and online applications. As it is open source, so individuals and teams coalesce and contribute their skills for its development.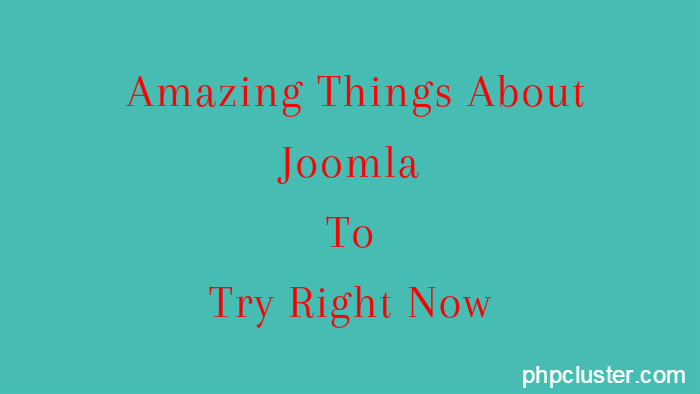 Brief about Content Management System
it is a computer application that supports creation and modification of web contents and keeps track of it. It is designed to support the management of the content of web pages. What makes CMS unique is the very fact that it doesn't require any specific technical expertise or skill as it is easy to use and it manages all your web content.
Why you should use Joomla
As we have options to choose from other CMS, so the factors which determine to use Joomla depends on your goal, technical expertise, budget and what is the purpose of your website.
Extensibility:
Joomla offers a myriad of extensions to the users with more than 7,900 possible extensions. It includes plugins, templates, modules and much more. You can easily customize Joomla as per your need.
Multilingual:
It is a broadly bolstered open source multilingual CMS platform, offering 66 dialects supporting multiple languages.
Ease of content management:
It offers extensible content management capabilities and has some great features to create and manage your content with ease.
Easy to use:
Generally, it has unambiguous installation and setup. With small efforts into understanding its structure and terminology, you can make genuinely complex sites. Many web hosting services offer a single-click installation even if you are not an advanced user.
A global platform:
It is designed to perform as a community platform with strong social networking features.
Engaging:
Now creating an engaging website is easy with Joomla. With so many templates to choose from, you can customize and make sites more engaging and with custom design attract more visitors.
SEO Perspective:
The ranking is important for any website as it makes searching easy for the sites. Hence, SEO plays a vital role. Joomla provides a number of benefits from inbuilt SEO to an extension, using which you can take care of your site's SEO work. You can make your site rank higher in Google.
Straightforwardness:
Joomla is clutter free and is free of ambiguity hence, navigation is simple. It provides excellent navigation for the websites making it more user-friendly.
Easy updates:
Unlike other CMS's or software it is easy to update it. Keeping up to date is a daunting and tedious for software but updating Joomla is easy because it has an automated checker feature which notifies you if any update is available. From the security perspective, it is beneficial to keeping your site up to date is the best thing you can do to secure your site.
What it offers to Developers:
Joomla's framework enables developers to create robust sites and quickly build faster and
reliable sites. It helps them to create:
– Data reporting tools
– Custom product catalogs
– Inventory control systems
– Complex business directories
Joomla is packed with features and apart from the aforementioned features, it also has
some features like:
– Page Caching
– Web Indexing
– RSS Feeds
– Blogs
– Forums
– Website Searching
– Complete tech support
– Faster website speed
– Support for extensions
Joomla is a self-hosted website as most hosts provide a Joomla auto-installer, all you have to do is download it and install and use it the way you want and if that's not enough then here is something that makes it even better, you can extend core Joomla functionalities with third-party extension and templates and give your website that Midas touch and make it as simple as possible or a complex one. If you want a website with specialized functionality, Joomla is the answer as it is highly extensible with thousands of extensions and plugins. It allows you to build websites with more content and offers more flexibility than other CMS. It is used widely as it supports various sites like:
– E-commerce sites
– Corporate portals
– E-magazines and publications
– Mid enterprises websites
– Personal webpages
Since Joomla is easy to use, you can easily and quickly build sites for your business or personal use. You can adapt to it easily and can empower your clients to manage their own sites themselves, with little guidance. Searching is better with Joomla as it has an in-built smart search which makes visitors search quickly and effectively through your site. The cheery on the cake is that you can analyze your visitors need and cater your content accordingly. You have the ability to use the included smart indexing, advanced search options, auto suggests searches adding more to it features.